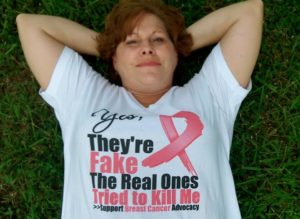 *Warning~ The following is my story in which I have chosen to be extremely transparent in the sincere hope that it will encourage or help others who may be battling something in their life.
January 13th, 2012 (Friday the 13th to be exact), I heard four words that most women dread ever hearing.  "You have breast cancer."  That day and the preceding days of mammograms, ultrasounds, biopsies etc., are etched deeply in my mind.  My heart still skips a beat when I think about it.  I wasn't really all that surprised when the doctor gave me my results.  Mostly because I have such a significant family history of it.  My maternal grandmother died at the very young age of 43 after battling breast cancer followed by metastatic brain cancer.  Her sisters and their daughters have also dealt with breast cancer.  My poor mom was only 16 when she lost her mom, but thankfully she has been spared so far.  I couldn't help but think of my grandmother a lot.  We were close in age at diagnosis.  At age 44, I put myself in her position.  I thought about how desperate she must have felt knowing she was leaving her young daughter behind.  I allowed myself only to go there for a little while.  The thought of leaving my family was too hard to envision.  I guess when you hear the cancer word, your mind goes way ahead and plays dirty tricks on you.  It becomes a true battle of the mind.
The day we found out, my husband Frank was off from work.  I had only had core biopsies done a couple of days before and was told my results would probably not be available until the following week.  As soon as they called and asked me to come in, preferably with a family member, I knew it wasn't good.  Neither of us said much on the way.  He held my hand as my nervous foot tapping began to feel frantic while waiting for the doctor to come in.  I knew his silence meant he was as scared as I was.  He is what I lovingly refer to as "chatty Cathy" and if he's quiet, he's worrying.
The doctor came in with her nurse and I'm not sure either of us breathed as they sat down and began to speak those dreaded words.  I remember the initial shock and feeling like I was digging my nails into my husband's hand.  We were given a few minutes and a handful of tissues while they left the room to allow us to absorb the shock.  In those moments, the tears came quickly.  I had what is known as DCIS or Ductal Carcinoma In Situ, which is a fancy way of saying you have contained cancer in the milk ducts of the breast.  If you are going to have breast cancer, this is probably the one you would want to have.  I never knew how many types of breast cancer there were. This particular kind is usually caught early while it is still in the duct and has not spread beyond.  I should also mention this was caught by a routine screening mammogram.
The rest of that meeting was a blur.  One thing that still stands out in my memory is when my husband grabbed me, hugged me and told me "Don't worry, we'll get through this."  He reminded me how long we had been together, almost 20 years then, and about all our ups and downs and how despite them all, we were still ok.   Our relationship is built on a strong foundation of trust, honesty and love.  I knew in those moments he was really freaking out on the inside, but he loved me enough to be strong for us both.  The doctor and nurse came back in and talked about the next steps and picking our team of doctors. Team. Yes, now that was really something.  I didn't realize just how many people you have to see.  Your primary care doctor, oncologist, surgeon, plastic surgeon, etc., etc., etc.  This is when I found out the nurse was a "nurse navigator".  Her sole job was to help me find the right doctors, treatment, etc.  She was the one I would be in touch with over the following few weeks as she set up what seemed like a whirlwind tour of medical offices.  For having only just met her, she became a new best friend promising to be available whenever I needed her.  We left with a bag filled with information after sharing a hug on the way out.
That night we called a family meeting that included our 3 kids, my mom, my brother and his fiancé.  I wanted to tell them in person, all at once and allow questions to be asked and answered. I believe doing that was my first step in healing.  I didn't want to go through this alone.  I needed their support and love and being open and upfront about my diagnosis made me feel like I had just a tiny bit of control.  Everyone was on the same page.  They now knew everything I had only found out hours earlier. It's fair to say we were all reeling.
I opted for having a bilateral mastectomy because I did not want to risk hearing that C-word again.  I was really worried about how my husband would feel about that, but he assured me he would much rather have me around than going through this again, especially with my family history.  In his words, "I didn't marry you for your boobs."
Fast forward.   I have to say, I have never, ever showed so many people my boobs.  Seriously?  Every single doctor had to get the full view of my chest followed by poking, feeling, pushing, etc.  If I was in New Orleans, I'd have received tons of beads for every time I flashed someone!  I think this was really difficult at first, sitting in front of various people, everything exposed and my husband sitting quietly in a chair nearby.  But, I have to say, every single person I dealt with along the way treated both of us with compassion and respect.
When I began to go through the testing and biopsies, I had shared this with a few people I was close to at church.  They became my first-line of prayer warriors.  The day I found out my diagnosis, they also found out and passed information along so I would not have to continuously repeat everything and go through the emotions over and over.  We had been involved in our church for almost 12 years and the people there were like family.  I thank God every day for them.   Our pastor was not only the shepherd of our church, but like family to us.  In fact, to me, he was and still remains my "spiritual father".  He called me the night I found out and in his most sincere, kindest way, he offered me support and love and made me promise to keep him in the loop.  We ended our conversation with me in tears and a boulder in my throat as he prayed for me.   There would be several church services in which I was surrounded by my precious church family as they prayed for me and our family.  Our church is one that believes, truly believes in the power of prayer.  We had already seen God's healing power at work in our church and community.  I knew when they said they were praying for us, they were on their knees every day.  They were not shy in blasting the heavens with their powerful voices for God to intercede.  I knew deep, deep within that I was being catapulted into the arms of Jesus.  I didn't have to worry about anything, because I was already being carried by the One who knew my every need, including the unspoken.
There were many nights I silently cried and prayed myself to sleep.  I wasn't afraid for me, just my brain wouldn't shut off at night, and of course the future of the unknown was scary.  Mostly I worried about my family.  My mom was having a difficult time with this.  She kept saying, "why you, why not me?"  I didn't have to give that much thought.  I answered quickly, "why not me?"  I knew this journey I was on was for a reason.  God didn't blink His eyes and let cancer attack me while He looked away for a second.  Cancer happens.  It doesn't respect anyone, no matter what age, race, sex, occupation etc. you have.  It can strike anyone at any time.  And, it doesn't matter where your stance is as a Christian or otherwise.  I was on the prayer team, very involved in our church, had been on mission trips and generally felt like I was in a good place with God.  So many people are misled into thinking God made something bad happen.  It breaks my heart when I hear this.  God loves us so much.  He would never put intentional suffering on one of His kids.  I knew every single tear drop that fell was being gently wiped away by my Daddy in heaven.  His heart was as heavy as ours because He was in it with us.  He lulled me into a peaceful sleep every time I asked for His peace to invade me on those restless nights.  I remember vividly waking in the morning and thinking the last thing I remembered was praying  for peace and sleep. And God delivered. Night after night.
One night in particular as I began to pray, I prayed an intense prayer for Frank.  He was trying to be strong, but I knew he was struggling.  His own mom died from cancer.  I knew he was thinking of her and wondering if cancer would take me away from him too.  That night as much as I prayed for his spiritual and emotional health, I also prayed for physical healing.  He was born with club feet and had numerous surgeries as a very young child.  He had recently started having a lot of pain in one of his feet and was facing surgery himself that would keep him out of work for possibly 6 weeks.  During one of our Wednesday night services, he had received prayer for healing.  I don't remember exactly when he realized it, but somewhere between that time and my surgery, he no longer had any pain.  It was like God said, "ya know what, you don't need this and I'm going to take it away."  To this day, he is still doing well and has not visited the doctor again for it.
The day of my surgery was February 29th, 2012. Leap year.  I asked family and friends to show their support by wearing pink of some sort that day.  I was pleasantly surprised and a little taken aback by how many people actually did this.  From my neighbors, to friends on Facebook who lived near and far.  And upon arriving at the hospital, we were greeted by more family and friends wearing pink, including some of my church family.  They gathered around us and prayed for us until I was taken into pre-op.  I was nervous, who isn't facing surgery, but I had such peace.  I asked if my surgeon and nurses would pray and as they happily joined in, I knew as I left pre-op I was totally immersed in prayer. The last thing I remembered was the blast of cold in the OR suite, many hands moving me to the cold bed, tubes and wires and the sound of somebody's heart rate… wow was it beating fast… a blast of cold that suddenly went up my arm from the IV and then a blanket of warmth as a voice that sounded very far away said "Andrea, we will take good care of you." As the voice faded, the images of all the beautiful faces of family and friends faded into a pink haze.  It was the most indescribable feeling of peace and the most beautiful pink color I'd ever seen.
I heard the voices before I could see anything.  Low and hushed voices.  Where the heck were they coming from?  They sounded vaguely familiar.  Suddenly someone's warm hand was touching mine.  I immediately recognized the familiar touch of my husband.  Suddenly the voices got clearer and I heard my mom and Frank talking as they sat beside me.  Finally it seemed like an eternity passed before I opened my eyes.  They felt so heavy.  The moment I opened them I felt everything.  There was so much pressure on my chest, I wondered why they had put weights on me.  The weights hurt too, a lot.  Suddenly I was jarred back into reality.  Those weren't weights.  I remembered why I was there and as my husband and mom told me everything was ok, I instinctively tried to touch my chest.  My first thought was… I thought they were removing my breasts… followed by the realization that mine were gone and in their place were smaller bumps, mounds, whatever you want to call them.  And then as I moved my arms, there was such intense pain that shot up under my armpits. What the heck? Why did I have tubes coming from there?  My mom explained those were the drains, one on each side. Hmm, I do not recall anyone telling me about that part.  Actually, the tubes were placed on each side of my chest, but I hurt all over.  I did remember then that my plastic surgeon had told me I would not remember him that day, but would definitely know he had been "there".  Been there he was.  He had placed what are called expanders in the remaining tissue left by my now vacant breasts.  Essentially these are hard plastic with a balloon like area that would later be filled on numerous trips to his office.  The idea is that as they are filled with saline, the skin and remaining tissue is stretched out to accommodate my future implants or "new boobs".
My mom and Frank filled me in on what my surgeons had told them, no more cancer was found, the margins were clear as well as the sentinel node and other lymph nodes.  Now… finally the beast was gone.  After jumping through hoops, the wait of one month and 16 days was over.  It no longer had access to me.  That was the moment I think the tears started.  I was free and I no longer had this thing inside me trying to consume my life.  I felt such relief.  At this moment was when our oldest son Neil, and a handful of friends, all in pink came in my room.  One of Neil's best friends and one of my "adopted" children hugged me.  I'm known to Neil's friends as "Mama Neil".  Neil, with great concern hugged me so gingerly.  Worried I was in a lot of pain because of my tears, I assured him I was ok.  About this time, the nurse came in and gave me pain medicine.  Oh, sweet relief.
The next voices I heard, I didn't recognize.  As I opened my eyes, I saw two women, one dark haired and one blond.  They were introducing themselves to my mom and Frank.  They walked straight over to my bedside and I clearly remember the dark haired woman say "Hello Beautiful! How are you doing?"  She told me their names… she was Mary Beth, and the other woman was Rene.  They had such beautiful smiles.  They warmed the room.  Even though I felt not at all beautiful, their kind smiles and compassionate eyes made me feel like I was.  I remembered talking to Mary Beth by email mostly in the weeks before my surgery was scheduled.  In that big goodie bag I had received was information and a beautiful calendar of breast cancer survivors mostly under the age of 50.  The nurse navigator had told me about them and had said when you are ready, you might enjoy being a part of a support group like theirs.  She told me they are not "a typical support group" and enjoy living life.  I had reached out to Mary Beth, and when she found out my surgical dates, she said she would stop by if I wanted.  I actually had forgotten about this.  They didn't know me at all, yet here they stood.  Their non-profit organization is "Beyond Boobs!" They have coined a familiar phrase "not your typical support group" or "NYTSG".  Before leaving, they left my mom and Frank with their numbers and told us to call at any time. These ladies are both breast cancer survivors themselves and they are the founders of "Beyond Boobs!"  Even in my drugged state of mind I remember feeling so thankful that they would come.  They had made quite an impression, on all of us.
The next few days were tough.  Our 2 younger kids were staying with our neighbors and with my mom.  This was tough on the kids.  All of them.  They seemed to understand, but I'm not sure at the ages of 11 and 14 they really had a clear understanding.  All they knew was mommy had cancer and was having surgery.  Pretty simplistic, they didn't need to know all the details.   Neil, at age 20 on the other hand didn't really want the details I don't think. He had a difficult time the night before when the realization of me having both breasts removed hit home.  He was visibly shaken.  I think in his mind, he knew the seriousness of all that was happening but his defense mechanism was to not know too much.  I was impressed with his compassion and love and how he rallied his friends, girlfriend and their parents together for support.
Frank stayed with me the first 2 nights and I finally made him go home on the third night.  Hospital sleeping is uncomfortable and he needed rest as well as the kids needed him.  He was wonderful about coming to stay with me as often as he could and my mom was there every day as well.  There were others, family, church family and friends who stopped by also.  One friend sat with me holding my hand and talking to me, praying silently, and aloud with me before she left.  It had been a rough day, I was spiking a temperature and I was in so much pain.  She talked softly to me as the tears flowed by both of us.  I was so miserable.  Having a high tolerance for pain already meant it took a lot to get my pain level under control.  Over all, the staff did their best to keep me comfortable.  The drains were the devil.  They were the worst. You had to be careful turning in the bed, getting up to the bathroom and up to walk meant the tubes might become entangled or yanked as they fell.  I don't know what I thought, but I didn't realize the tubes would be sutured in.  Countless times, the tubing would get pulled and I wanted to and sometimes did cry as the pain became like a searing knife.
I had cut my hair much shorter than usual because I wasn't sure of the foreseeable future.  I wasn't sure if I would need chemo at some point.  Thankfully, I did not.  I knew that I would have a hard time taking care of my hair so I opted for an easy haircut.  All that over the head motion with my arms would have made the pain worse.  And quite honestly, I wasn't feeling like making myself look pretty.  It was one of the best decisions I made.
My hospital room looked and smelled like a florist.  Family and friends had sent flowers from all over.  They were so beautiful and helped keep my spirits up.  When we got home, our church provided meals almost every day for a period of approximately 3 weeks.  That was a huge help to us.  It allowed me to heal and Frank to return to work without worrying about rushing home to fix dinner.  We were so appreciative of everyone who stopped by, not just to bring a meal, but to offer prayer, encouragement and a hug.  When Frank was working, my mom spent the day with me.  They both took over household duties and watching the kids and both also quickly learned how to take care of the surgical sites where the drain tubes were.  In retrospect, I'm so thankful they were there for me, because I was unaware of how long I would carry those drains.  The location of the sutures were in a place I could not see on my own.  They also were great taxi drivers and cheerleaders as at least one of them came to every follow up appointment.  On seeing my surgeon, he was so thankful I chose a bilateral mastectomy because in the final pathology report it was noted there were pre-cancerous cells in the opposite breast.  He told me I would have been back to have it taken care of eventually.   Whew, despite a lot of peoples concern over whether I should remove one or both breasts, I knew instinctively I needed to do both.  Now here was the proof.  I had said to him prior to surgery, based on my family history, I didn't want to have fear of a reoccurrence hanging over my head, always worrying or waiting for the other shoe to drop.
Finally after approximately 3 ½ weeks, the day came when the drains could be removed.  I was never so happy!  Those tubes were probably the width of a pencil and longer than a foot.  I was amazed at how long they were.  When they pulled them out, I felt like they were pulling part of me out.  In a flash those miserable things were gone. Mark another step in my recovery!  My suture site where the expanders were put in healed very well.  As the months went by, I became frustrated with the pain they caused.  It felt as if a sharp object was piercing my sides.  It was hard to sleep on my side anymore, my favorite sleeping position.  My chest felt so hard. It was difficult to get undressed because I didn't like what I saw in the mirror.  I felt like a pregnant woman without the joy of carrying anything other than scars.  I had opted to not have nipple reconstruction.  I hated bras anyway, but of course wore them because I wasn't going to flop around prior to the breast cancer.  And, I was always the one who walked around with my arms crossed to avoid anyone seeing the cold effect even if I had a bra on.  The idea of the freedom to never have to wear another bra appealed to me.  Because my chest was flat now, and I wasn't exactly skinny, my stomach looked huge.  Every top I tried on seemed to accent this and I was embarrassed.  My chest was now a blank canvas with only the zipper looking scars that crossed the area where my breasts had been.  I wasn't comfortable with myself in the mirror, so I definitely didn't want my husband to see me.  I undressed in the dark or in another room to avoid his eyes.  Now that my physical battle was nearing an end, the emotional battle was evolving.  I don't think there is anything that can prepare you for this.  It simply is something you deal with when it happens.  In any case, it was beginning to depress me.
My dad and my step-mom Patti live in Florida and had been involved in my recovery as much as they could from a distance, as well as my step-dad and his wife who live in Maine.  I received encouraging phone calls from family that couldn't see me on a regular basis as well as wonderful messages from friends and family via Facebook.  Facebook is wonderful in that sense… bringing people closer.  One afternoon, my dad and Patti called to ask if I would like to come visit them in Florida.  I was in a place now where I only had to visit the plastic surgeon every other week or so for "fills" with the saline.  With Frank's blessing, by the end of April I was in sunny Florida.  They paid for all my expenses, and my trip to Florida evolved into a last minute week long trip to the Bahamas with them.  We celebrated my dad's birthday and life in general.  Basking in the warmth of the sun, with views of the beautiful turquoise blue waters, was exactly what I needed.  I felt extremely blessed to be there and to be alive.  I spent many moments thanking God for all that He had done for me and my family.  Being at the edge of the ocean, I felt so many things.  God painted beautiful sunrises and sunsets while we were there.  Almost every morning, I felt the urge to jump out of bed just as the sun began to rise.  Usually I was one who hated to crawl out of bed, but it was as if He was nudging me to get up and see the portraits he was painting.  Quietly, I tried to slip out on the balcony every morning and take picture after picture of what I was experiencing.  I took so many pictures on that trip.  I probably made my parents a little crazy.  But, it was like I had to try to capture everything. I wanted those memories to never be lost, and I didn't trust my own memory to recall them.  It wasn't just the sights, but the sounds of the various sea birds and the ocean itself.  It was the smell of the sea air and the feel of smooth, sugary white sand under my bare feet, and the way the warm water felt as it washed over them.  It was the warmth of the sun and the warm breeze that caressed my skin.  I wanted to stand at the edge of the water and let every sense take part in memorizing these precious moments.  I breathed in deep and thanked God for how close I felt to Him.  I have always had a connection with the ocean. To me, it has to be the closest thing to heaven on earth. The tides as they ebb and flow are a lot like life.  No matter how deep the water is, no matter how the waves threaten to crash down on me and pull me out to sea, I have an anchor in Christ.  He won't let me sink.  I felt this with more certainty than ever.
It was difficult to say goodbye to such a beautiful place, and of course even harder saying goodbye to my dad and Patti.  They took good care of me and gave me a much needed vacation.  I was much better emotionally and spiritually by the time I got back to Virginia.  The funny thing was, it was our anniversary the day I arrived, and Frank gave me a beautiful salmon colored hibiscus tree.  What he didn't know is how many beautiful hibiscus flowers I saw in the Bahamas.  It was like God was giving me a constant visual reminder of our time there.
Now, as my 3 year anniversary arrives, I can see a bit of where God was leading and guiding all along.  I never had any doubt it would be used for good at some point.  I eventually did call Mary Beth and got involved with "Beyond Boobs!"  Though everyone around me was so supportive and understanding, they just didn't understand how I felt unless they had also gone through it.  I didn't want to go to a support group.  After being in so many medical offices, I had no desire to subject myself to anything else clinical.  What I found in "Beyond Boobs!" also known as "BB!" were other women like me, who had a story to tell too.  Some were like me in that they were diagnosed early. Others cancers were found a little later and they had to go through the trauma of chemo.  All of us either had lumpectomies or mastectomies.  We all knew the pain and torture both mentally and physically.  Many have young children and careers. Trying to juggle all of that and still have a happy marriage and contentment in your life can be exhausting.  Frank encouraged me to go and be with other women who all belonged to the club nobody wants to belong to.  My family had given all they could, but I needed more.  I quickly found out why they are not a typical support system.  These women are crazy!  I say that with good humor… they are FUN!!  They are learning to live life again, sometimes in the painful shadow of someone they no longer recognize.  Trying to let go of that person, the former me has been hard.  I still struggle.  What happens in "BB!" is that we can identify with each other and bonds are formed.  We can offer our own experiences and not be judged about our treatment of choice.  All in all, it is a very personal choice.  But, it does help to hear the thoughts of others who have been down the road already.  We do not offer medical advice or opinions.  We listen.  Carefully, to each other.  We even do crazy stuff like "show & tell".  You know, it's hard having your body altered.  It really helps to have willing, live models who aren't afraid to show their battle scars or their reconstructed breasts.  Nobody is made to feel funny if you do or don't share.  It's a matter of choice.  By the time you get to this stage, you have already showed half the world your boobs, so if I can show somebody and allow them to make an educated choice for themselves, I won't hesitate.  Wow, that's different for me to say.  I still am shy dressing in front of my husband, even after reconstruction and some tattooing to make myself look more "normal".  I am simply not there yet.  Not satisfied with my new me.  But, that's where "BB!" helps.  They are encouraging, loving and supportive.  They offer an ear when everyone else is sick of hearing about "my journey".  Did I mention the fun stuff?  We have done polar plunges and mud runs.  Some have gone sky diving.  We march in parades trying to get the word out to other young women to "check your boobies".  We have fundraisers including a golf tournament, biking and running.  We also host a Mr. Breast-Fest event in which men are encouraged to apply with their own decorated bra.  Did you know breast cancer is found in men as well?  It is.  Nobody is immune. So women check your men too! The biggest fundraiser is the yearly calendar in which survivors in "BB!" are encouraged to apply and be calendar girls.  It is a wealth of information, a breast health guide disguised as a calendar.  Each month features a survivor and their story.  There is an unveiling gala in September each year and the new models are introduced, red-carpet style.  I'm not even kidding about that.  They receive first class, star treatment and are escorted by a husband, brother, son or significant other.  Many people from all over the community are involved and very generous in helping put this on.  Last year, I was one of the chosen, however, with a move to Florida in the works, I was not able to do it.  It was an honor to have been chosen though.  Maybe another time.
The biggest thing "BB!" does in my opinion, is that they provide monthly meetings through other survivors who train to be volunteer facilitators and co-facilitators.  They host meetings in their homes providing a safe, intimate place for other survivors to meet no matter where they are in their own journey.  Remember I said I didn't want to be in another clinical setting? I believe the home, girlfriend-like atmosphere is calming and allows conversation to run deep and address issues or problems women are experiencing.  The meetings are also meant to be informative at times, offering new information as it arises.  Having them in the home means everyone is being heard, not always possible in a public setting, but equally important is "what" is being said.  We may not feel comfortable sharing in a public place.  And yes, "show & tell" can happen with ease if anyone feels so inclined.   One thing you can be sure of is these groups of strong women love to get together and meetings sometimes take on a life of their own.  They come for different reasons, but each one is treated with respect and concern.  You may even blush if you were to eavesdrop on one of the meetings, another reason to meet in the home.  You can bet if you are in need, one of these sister "boobers" as we survivors are called, will help you.  We are there as life vests, to help support each other and keep each other afloat.  No matter what stage, these dynamic groups are often overheard laughing.  Laughter is one of life's best medicines.  It cleanses the soul and lifts the spirit.  It was just what I needed at the right time.  I can poke fun at myself now and laugh.  But, I can also have deep, heart to heart conversations with women who get it.  There is no pretense here.  You can wear your hair any way you choose, even if you don't have any.  In all seriousness, you can come bald, with or without breasts, in various stages of reconstruction, etc.  You can be real in all your emotions.  As much as we laugh together, we also cry together.  We have lost some beautiful women.  We hold each other up and get through the rough stuff, the best way we know how.
So, moving to Florida last April, I knew I wanted to give back in some way.  I wanted to help other women the way I have been helped.  I immediately told "BB!"staff I wanted to become a facilitator for women in Florida even before I made our move.  As God would have it, another survivor who was part of "BB!" in Virginia a few years ago was, at the exact same time, also wanting to start a group here in Florida.   Once staff clarified everything, we discovered we were literally a few miles apart.  We were introduced to each other and began our facilitator training.  Shelly was to become the facilitator and I the co-facilitator.  This was a dynamic-duo God brought together. Of this there is no doubt.  We had never met and suddenly we were in the same place with the same desire to help other women.  With happy hearts and a drive to get things underway, we hit the market in Florida.  We visited numerous doctor's offices including oncologists, surgeons and plastic surgeons.  We shared the "BB!" name and a brief summary of what we do with anyone who would listen.  Armed with business cards, calendars, and other information, we approached A LOT of people.  By September, we were ready.  Ready to get things moving, done with training which was done by corporate.  We were excited and we knew if we could just get other survivors to come, it would take off.
Our very first meeting was the first Thursday night in September 2014.  Our Florida baby was almost done with labor and ready to be born and we were beyond excitement.  Unfortunately, that meeting consisted of just Shelly and me.  We were disappointed, but not deterred.  We knew the secret of getting women to the meetings was by word of mouth mostly woman to woman, survivor to survivor.  We went to several events, a wrestling fundraiser sponsored by another local group which allowed us to have a table to get our name and information out.  We went to the annual breast cancer walk "Making Strides" and passed out and talked to as many women under age 50 who would possibly tolerate our spiel. "BB!" is unique in that their targeted group of women are under age 50.  This is because the needs of a younger woman with breast cancer are a little different than a woman who has already gone through menopause.  And, let me just tell you,  finding them is not as easy as it looks!  Some of these women, especially women of color look amazing!! They have this beautiful glow and no wrinkles, that mixed with not always having hair or wearing a scarf or wig made it darn near impossible to guess ages. Of course the women who were older than 50 were flattered, but we found ourselves having to change our approach just a little.  See, we were excited to help.  We weren't asking for anything but a few minutes and yes, a contact name, number or email.  Not so we could bug anyone, but so we could provide future save the date notices for meetings and events.  Shelly single handedly was a beast with a mission.  She gave information out to anyone who would look sideways at her.  Kidding, but really she put in a lot of effort to reach people.
Our next meeting in October was better.  When the first woman showed up, we did a quick victory dance before opening the front door.  Shortly after that, another woman came.  Those were our only 2 that night, but we were so excited!  Finally our Florida baby was born! We were ready to bring out wine and pass out cigars. Just kidding of course.  We knew how hard being new-comers or "newbers" felt.  We had been there at one time.   But, we also knew if those women shared their experience with other women, it would eventually come together.  We knew that even if no other woman ever showed up, we were at least attempting to be there for these women.  If you think about it, it's sad to want other women to come because it means they have joined our exclusive club.  That said, there is such a need for what "BB!" offers. That is easy to see as there are "BB!" groups sprinkled around Virginia, North Carolina, South Carolina, now Florida and even more states are on the back burner.
Finally, back on the homefront, some of the plastic surgeons began sharing "BB!" with their patients.  Between them and our "newbers", the word has started to spread.  We even had articles in the FL Today newspaper and our neighborhood paper promoting our venture during October, known for being breast cancer awareness month.  In total, we have about 22 women on our groups list who receive information on a regular basis.  Of that, a little less than half have attended meetings. But, that's all ok.  At some point, these other women may eventually join us for a meeting or one of our "Hip Chick" events that "BB!" sponsors quarterly.  They stand for "hope, inspiration, and power" and are fun events any "boober" can come to for free.  In December we were able to get massages courtesy of "BB!" and followed that by meeting together for dinner afterward.  This month we are meeting at Uno's to share appetizers.  Our little group is beginning to "gel" and it is exciting for Shelly and I to sit back and see the relationships develop.  We are simply like "mama's" watching over and gently guiding conversation along with possibly tossing around a fake boob that takes the place of a "talking stick".  Otherwise, the women form bonds with each other and as we have experienced ourselves, these lead to long lasting friendships with women from all walks of life.  It's like building a fire.  You start with some wood, fluff it up piece by piece to help it get started, suddenly you have a few sparks, and before you know it, you have a full-fledged fire to which you keep adding logs to keep it going.  So here, our little group has sparked into a fire and it continues to grow as we soak in the satisfying warmth and happiness helping others brings.
I am sad to say my venture here in Florida is coming quickly to an end.  In a matter of 2 weeks, we will be moving again.  I am sad to leave this group that became our baby, and the first "BB!" in Florida.  However, I am happy and excited to know we have women involved now and one in particular is already working at taking my place as co-facilitator.  Living here has been a blend of bitter-sweet.  I love the beaches and living so close to my dad and Patti.  I love the tropical climate.  I know I will miss all of this when we move.  I also know that I have to go where my husband is.   I have missed him terribly over the last 6 months while he is working in Massachusetts.  With a pit stop in Virginia until he can find us a home in Massachusetts, the kids and I will be able to visit Virginia family and friends, including women from "BB!"  I may even be there for the annual retreat they offer for all survivor "boobers" at the beach.  As I close this chapter here, I am excited that one of next year's calendar girls was chosen from our Florida group.   It will be hard to say goodbye, but I have a feeling I'll be seeing these women again and we will always be in touch.
And so, now on my 3 year anniversary, I have come a long way.  My journey can be measured by many things, including miles.  I still have more reconstructive surgery ahead.  I have a new set of boobs that are far more comfortable than the expanders, but still aren't how I'd like them to be.  I feel like I'm comparing car models.  I want the high end polished set, but I only have a beat-up pair.  Maybe I will never have anything else done, maybe I will get some wild tattoos over the scars, or maybe just some subtle 3D touching up.  What I see now when I look in the mirror is an image I have to be comfortable with.  What I also see is the face of a woman who is strong. Stronger than I could ever have imagined.  My face doesn't show my strength, but I feel it.  It goes hand in hand with the verse God gave me in 2009 following brain surgery for trigeminal neuralgia. (Another story at another time).  Still heavily sedated, I remember clearly hearing a voice that rose above the recovery room noise.  It said, "remember this…"I can do all things through him who gives me strength." I vaguely remember the verse being Phil 4:13.  I don't know if I actually heard that part, but somehow I just knew.  Days later after being moved from ICU, I had to look the verse up.  It was still clear in my mind.  Sure enough, it was the correct verse.  I knew God spoke to my heart that day.  Ever since, I have leaned heavily on that verse.  It has helped me through some very hard times.  There is no doubt, God already saw my path, my journey and because of my faith, even as I neared the edge of a cliff, I knew I could jump straight into the arms of Jesus who carried me then and continues to walk with me now.
I know my footsteps are guided by God.  He will lead me to where He wants me next.  To the next home, the next church, etc, etc.  He is the center of our marriage and family.  Where He guides, He provides.  He sees the big picture, the obstacles, the good, bad and the ugly.  I know I am strong because He is always with me.  No matter what storm I'm in, He won't let me walk alone.  I am victorious because I have Christ.  I see the visible scars left behind on my body, but I choose not to let them go beyond the skin.  I can't be bitter or angry because cancer attacked me.  Instead, I see where that journey has led so far.  It has been hard, but I survived. My faith is solid, it doesn't waver.  It is because of this cancer journey and the road back to health that I have grown.  You grow when you are in the valley for a while.  You have to rest up, be still and gain strength so when the next thing comes, you can dig in and fight and ultimately enjoy the view from the mountain top when you finally get there.  I haven't reached the top of that mountain yet.  I'm still climbing and some days I admit I am weak.  I won't quit though.  I've come too far.   I'd rather slow down and enjoy the hidden treasures along the way.  One of those treasures is a love for writing, so in doing that, I felt compelled to share some of my cancer journey here.
I discovered so many people who have become an important part of my life because of cancer.  People I probably would not have had anything in common with except that we shared the same disease.  I would probably never have been involved in "BB!"  Not because I don't care, but because it just wasn't on my radar.  Sometimes God chooses circumstances to allow you to grow into who He created.  I feel because of illness, it profoundly changed my life.  I don't want to walk a centimeter out of His will.  I don't take anything for granted.  I have lots of living to do and I intend to do it with passion.  There are no "BB!"s in Massachusetts.  Who knows, maybe I am to start a fire burning there.  I just know that once you face a serious health condition, it changes you and how you approach the rest of your life.  So, I'm looking back at my mirrored reflection and learning to love this new me.  I am discovering who He wants me to be, not who I want to be.  I still stumble and I am learning new lessons every day.  I love deeper now, and have found that sweating the small stuff isn't worth it.  I choose my battles carefully and reserve my energy for as many positive moments I can experience.  Because of all this, I can accept my scars and my faults and still move forward, one foot after the other, one day at a time. This masterpiece is still being painted, it's only halfway done. When it is finally complete, I want more than anything to hear these words from my Heavenly Father; "well done my child, well done."
March 2, 2015
For more information about "Beyond Boobs!" please visit their website: www.beyondboobs.org