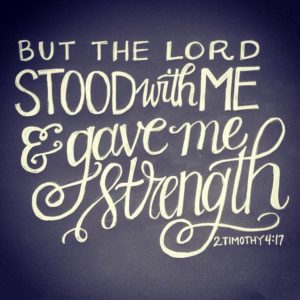 We are all going though something. Thought someone might need to hear this today… and I really needed the reminder.  No matter where you are in your walk, we tend to get off balance.  We have to keep a constant tunnel vision focus on the One who created us.  He knows all our fears, flaws, worries, etc. and we tend to let those things become our identity.   Note to self, STOP IT! Just cut it out already!
Right now, the women who have started up this website, "WIN" are each going through something.  Very real struggles, very real and even scary moments.  As one put it, our "hair on fire" kind of days.  We feel like we are walking really close to something that will swallow us up and consume us if we lean too far in that direction.  Well, at least I do.  I don't want to speak for anyone else, but I believe we are all going through some very testy waters.  Part of this I think is the beginning of this ministry.  What happens when you do something great for God?  If you think the enemy is happy about it, forget it!  So, that in mind, I keep yelling at him to cut it out! Stop trying to distract me, and send me on a detour.  "Ain't nobody got time for dat!"
I am in the midst of moving from Florida to Virginia.  And then, it's only a pit-stop there with family until we find another home in Massachusetts.  I am seriously over-loaded.  I am packing an entire house essentially on my own, though I do have one sweet child who doesn't mind helping. My husband has been away for 6 months working, so all that comes with planning a big move has fallen on my shoulders.  I have to admit, my husband is probably thinking he doesn't want to fly in because I haven't been very nice, more like a grizzly bear who missed hibernation.  I should be packing, yet here I am writing this.  Well, it's because I believe we are being side-tracked and we desperately want to stay on track.  I will more than likely not be writing  more until after we make the first leg of our trip. Then you will just have to suffer through the stories that are sure to come from this kind of move, with 2 teen-agers, 3 cats and a dog.  Oh joy! Ugh..not.
The other women are going through other things that are threatening to detour them as well.  I will let them tell their stories.  I just needed to be transparent now and let others know we are not being invisible so to speak on purpose.  There is just A LOT going on.  I'm excited to see them and catch up again in person as we have been using technology to this point to communicate.  I thank God for that, as it has kept us all in the loop and on top of not only this website, but also in contact with each other.  We have been able to pray for one another as things happen.  I cannot tell you how much peace that gives.  Knowing you are covered in prayer when you are ready to pull out your hair that is already beginning to smoke is a relief.  Whew!  I would not look good bald!  Prayer is powerful, and we use it a lot!
We are not immune to the crap life brings sometimes.  In fact, if you are stepping out to do something God has nudged you to do, you may need some hip-boots to wade through all of it.  Following Him is interesting, yet pretty messy sometimes.  It's a time of growth for sure.  But, you don't want to get stuck in the mess.  You have to keep plowing through one smelly step at a time.  And sometimes, your feet feel like they are so heavy you can't move an inch.  Just keep moving.  Keep your eyes fixed on Him.  He will get you through the messiest times in your life.  He won't desert you, ever.  As the storms threaten to pick you up and wipe you out, you are safe, because He is with you.  I have had to remind myself of this over and over lately.  It's so easy to let everything spin out of control.  I have to keep a conscious effort to look up and continue to pray.  Praise Him in the storms.  Not always easy, but once you start, you will find Him there.  He is there pulling for you, routing you on, even carrying you when things just get too hard.  He will get you through all that comes against you.  "But in that coming day no weapon turned against you will succeed…" Isaiah 54:17 NLT
Funny how when you really, really need to hear something, you get a crystal clear moment of clarity… here was mine today.
When you know WHOSE you are, you begin to know WHO you are. God has chosen you! Don't allow yourself to suffer from spiritual amnesia. Your identity is in Him-your security is in Him. The truest thing about you is what God says about you. There is nothing you can do that will make Him love you any less. "What shall we say about such wonderful things as these? If God is for us, who can ever be against us?" Rom 8:31 NLT
As discombobulated as I feel today and knowing this move is making me feel like I can't take one more tiny thing, I know I can because of God's help.  He is for me, He is for you. So slow it down, trust, take a breath, believe.
 " And I am convinced that nothing can ever separate us from God's love. Neither death nor life, neither angels nor demons, neither our fears for today nor our worries about tomorrow—not even the powers of hell can separate us from God's love." Rom 8:38 NLT